IndieBRAG, the respected champion and arbiter of quality indie publishing, has honored Glen Craney's The Virgin of the Wind Rose as its most recent winner of the coveted Medallion award.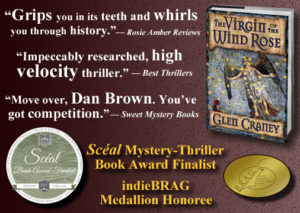 IndieBRAG judges are highly selective and must unanimously agree on a selection after conducting a months-long, rigorous assessment of submissions. Previous winners of the Medallion for historical fiction include such luminaries of the genre as Helen Hollick (managing editor of the Historical Novel Society), Steven McKay, Anna Belfrage, Derek Birks, Paula Lofting, Prue Batten, Katherine Ashe, and Jo Ann Butler.
Earlier this year, Books&Benches tabbed Craney's historical dual-period thriller as a Scéal Mystery-Thriller Book-of-the-Year Finalist.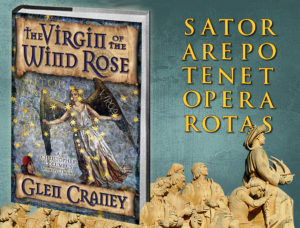 Critical praise for the novel:
"An impeccably researched, high-velocity historical thriller…. If you love Steve Berry, Dan Brown or Umberto Eco, you may have a new author favorite in Glen Craney." — BestThrillers.com
"An exciting journey across time, with more twists and turns than a strawberry Twizzler. Craney has produced a page-turning adventure, with crisp, clean and measured prose… The research behind the stories is massive, lending credence to the cast of characters and authenticity to the historic periods. This is a highly recommended historical thriller in the manner of Dan Brown." — Quarterdeck magazine
"[T]his book was compared favorably by other readers to the writings of Dan Brown… I jumped at the chance to see what the hype was about. I'm very glad I did… I stayed up all night to finish this great read and was left wanting more… Many times I will figure stories out early on, but this book keeps you guessing. Mr. Craney is a master of holding back and building the suspense. Though this is a fast-paced romp through history and time, you are still holding your breath… I'm hoping for a sequel." — One Book Shy of a Full Shelf Reviews
"Five stars. Move over, Dan Brown, you've got competition." — Sweet Mystery Books
More about the indieBRAG Medallion selection can be found here.